A People's Atlas of Detroit, which I co-edited with Linda Campbell, Andy Newman and Sara Safransky, is out! Check out the recent review in Antipode.
I'm currently only taking on small-scale print cartography projects (like book illustrations) as side projects. If you're an author looking for a locator map for your book or an illustration, get in touch with me directly!
I no longer have capacity to take on larger GIS analysis, community mapping or co-design projects; however if you're considering something I'd be happy to chat and share learnings and advice. My former workplace Research Action Design also continues to work with communities to co-design data and technologies, and do research which facilitates social change, and you can get get in touch with them via the RAD website!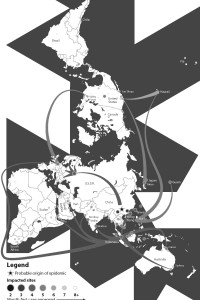 Education
M.A. Geography, University of North Carolina at Chapel Hill (2012)
My thesis, Alternative Cartographies Building Collective Power, explored the possibilities for map-making as a process to build community and strengthen social movements.
M.A. Mathematics, Duke University (2009)
B.S. Mathematics, University of North Carolina at Chapel Hill (2006)